Memphis No Kid Hungry Dinner
Memphis No Kid Hungry Dinner
March 18, 2019
6:00 pm - 9:30 pm
Join chefs Andy Ticer and Michael Hudman for their second annual Memphis No Kid Hungry Dinner!
Event Information
Thank you for joining us this year!
Click here to view photos from this year's event.
Sponsorship & Table Hosting
For sponsorship and table hosting opportunities, contact Hannah Brookhart at hbrookhart@strength.org.
No child should grow up hungry in America, but one in six children struggles with hunger. Share Our Strength's No Kid Hungry campaign is ending childhood hunger in this nation by connecting kids in need with nutritious food and teaching families how to cook healthy, affordable meals. You can help surround kids with the nutritious food they need where they live, learn and play.
Have any questions? Contact Hannah Brookhart at
hbrookhart@strength.org or 202-649-4361
Ticket Levels
Individual Ticket
1 Ticket to both the dinner and cocktail reception
Healthy Meals Advocate
2 Tickets to both the dinner and cocktail reception
Listing in event program
Afterschool Snack Star
4 Tickets to both the dinner and cocktail reception
Recognition in all marketing and media materials
Quarter page ad in event program
Summer Meals Supporter
1 Table of 8 at the dinner
Recognition in all marketing and media materials
Half page ad in printed event program
School Meals Hero
1 Table of 10 at the dinner in the private dining room
Recognition in all marketing and media materials
Full page ad in event program
Verbal recognition and thank you during event
Participants
Host Chefs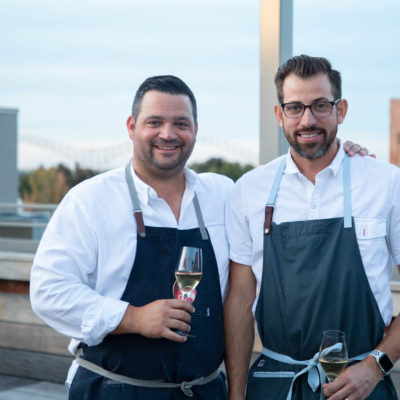 Andy Ticer & Michael Hudman
Full Bio
Guest Chefs